At Last

Album:
Marriot 5 Soundtrack
Released:
June 01, 2013
By:
Etta James
Sung by:
Jordan
Solos:
Jordan
Place:
School's Auditorium
Episode:
Broadway Stars
At Last is a song performed by Jordan. After Cody complimented her on her acting he kisses her on the cheek and she felt in love and expresses it by singing this song.
At last My love has come along My lonely days are over And life is like a song
Oh yeah yeah At last
The skies above are blue My heart was wrapped up in clover The night I looked at you
I found a dream, that I could speak to A dream that I can call my own I found a thrill to press my cheek to A thrill that I have never known
Oh yeah yeah You smiled, you smiled Oh and then the spell was cast And here we are in heaven for you are mine...
At Last==Video==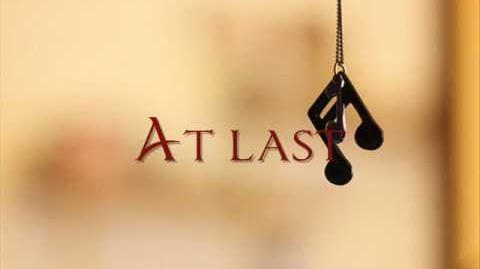 Ad blocker interference detected!
Wikia is a free-to-use site that makes money from advertising. We have a modified experience for viewers using ad blockers

Wikia is not accessible if you've made further modifications. Remove the custom ad blocker rule(s) and the page will load as expected.